Roof Cleaning Service from
Volcano Roofers
Most of us clean our homes on a regular basis, but when's the last time you had your roof cleaned? From providing shelter to protecting you from the weather, your roof is very useful. That's why it's important to take proper care of it. On average, you should have your roof cleaned every one to two years. Due to the dangers of climbing on your roof, it's best to leave cleaning in the hands of professionals.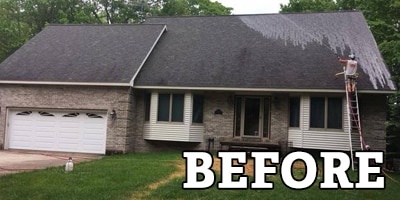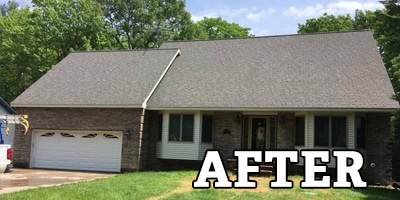 What Are The Advantages of
Roof Cleaning?
With regular cleaning, you can extend the condition, quality and lifespan of your roof. Here are some of the key benefits of roof cleaning.
Roof Cleaning Helps Save Money
As your roof ages, it's common for things like algae and bacteria to form. This is a problem because they can start to eat away at the shingles or leave stains. These dark stains can also absorb sunlight, which causes heat to seep into your home. The more heat you have, the higher your cooling costs. Upon noticing these characteristics, many homeowners decide to replace their roofs entirely. What they don't realize is that roof cleaning costs a fraction of the price. It can both improve your roof's external appearance and save energy costs.
Roof Cleaning Protects Your Health
Your roof is vulnerable to all sorts of weather, including rain and snow. These damp conditions can encourage the formation of mold. The longer a roof goes without a cleaning, the longer that mold has the chance to grow. If left unaddressed, it can create health issues for the residents in your home. Potential problems include coughing, sneezing and skin irritation.
Roof Cleaning Increases The Quality of Your Home
Your roof makes up an integral part of your home. If algae, mold and bacteria grow, they can infiltrate the interior of your house. Over time, this can start to compromise your house's structure. Regular cleaning helps keep your roof in prime condition. An an added bonus, it increases the home value if you ever decide to sell. Moreover, cleaning extends your roof's lifespan by getting rid of harmful bacteria.
Where Can I Find Roof Cleaning?
Considering all the benefits your roof has to offer, it's safe to say that it deserves nothing less than the best. Our team handles each roof cleaning project with care and precision. From removing stains to checking for safety and health issues, you can trust us to get the job done.
Please contact us today to get your FREE estimate.
Get Your Free Consultation